Great Mortgages.  The Right Insurance.  Expert Advice.
Bond Yields have spiked upward – what does this mean for current and future mortgage rates?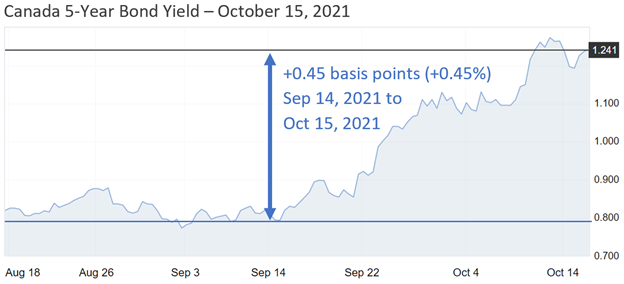 As illustrated in the above chart, the Government of Canada 5-Year Bond Yields increased by 45 basis points (0.45%) from September 14th through October 15th (at time of writing).
Why does this matter?  5-year fixed mortgage rates typically follow the 5-year Bond Yields which is the market's view/prediction of where the Bank of Canada key interest rate will be in the future.  Given how fast bond yields have increased, not all lenders have passed along the full extent of this increase to their 5-year fixed rates….yet.  If yields remain elevated, expect this gap among lenders to be very short lived.
Where do things go from here?  While we are likely to see 5-year fixed mortgage rates "catch up" to the increase in bond yields, we expect any further increases to be minimal over the medium term.  Why?  So far, the increase in bond yields is based on the general outlook that the economy is recovering, inflation is rising, and the US & Canada are ready to start tapering (removing) their massive bond purchases which was providing unprecedented support to financial markets and the economy.  Will all this ultimately lead to the Bank of Canada increasing their interest rates in 2022?  Maybe — but there are potential headwinds on the horizon:
Employment – Stats Can announced that the Canadian economy added 157,000 jobs in September bringing total employment back to pre-pandemic levels.  On the surface this is huge news, however, the unemployment rate still sits at 6.9% vs. the pre-pandemic level of 5.7% (given population growth).
Inflation – while inflation is a significant risk to the economy, an early rate hike by the Bank of Canada may do little to help get this under control as much of this is supply-driven inflation.
Tapering – The US and Canadian economic rebound has been heavily reliant on the stimulus programs which will soon be reined in — GDP growth is slowing down.
Consumer Spending – Consumer spending is also lagging behind pre-pandemic levels with a lot of ground to gain.
While the above commentary is based on our observations, all eyes will be on the upcoming October 27th rate update from the Bank of Canada.
Variable Rate Update – as variable rates are linked to a Lenders'/Banks' Prime Lending Rate, any interest rate movement by the Bank of Canada typically results in an immediate change to variable rates.  Based on the most recent outlook, the Bank of Canada has signaled the earliest it would increase its rate would be "the second half of 2022".
As illustrated by the below chart, variable rates are currently priced around Prime -1.00% (or better in many cases).  This represents an extremely good discount to Prime when viewed on a historical basis.  If you or your client are considering fixed vs. variable, please contact a member of the Outline team to receive a customized analysis comparing the potential interest cost/savings of each option.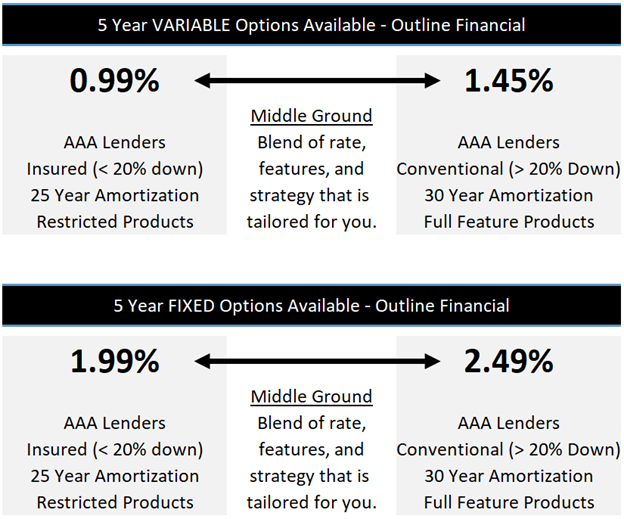 Copyright 2020 – Outline Financial.